Baker Publishing Group releases stunning, first-hand accounts from front lines of Ukraine-Russia conflict
Hope for Ukraine releases from Chosen Books, a division of Baker Publishing Group, on September 6, 2022.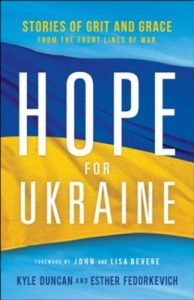 BLOOMINGTON, MN (August 25, 2022)—On Ukraine's Independence Day (August 24), Chosen Books—a division of Baker Publishing Group—announced the release of the first trade book covering personal "on the ground" accounts of the Ukraine–Russia conflict. Hope for Ukraine: Stories of Grit and Grace from the Front Lines of War offers part narrative and part wartime dispatch on the millions affected by Russia's invasion of Ukraine in February 2022.
A collection of true stories and firsthand accounts capturing events from the Ukraine-Poland border as recently as May 2022, Hope for Ukraine is written by Kyle Duncan, the parent of a child adopted from Ukraine, and Esther Fedorkevich, a first-generation Ukrainian immigrant. Duncan spent three weeks in Poland and western Ukraine between March and April, interviewing those who fled the war, as well as aid workers and volunteers. Through stunning firsthand accounts, Duncan humanizes the voices of more than 5 million refugees displaced by the most devastating war in Europe since WWII.
Duncan and Fedorkevich highlight the realities in war-torn Ukraine, including the state of refugee camps, bombed neighborhoods, and the Ukrainian-Polish border. Amid the stories of terror, the authors also cover God's workings amid the tragedy—revealing the spiritual implications of Russia's invasion and God's miraculous intervention in unprecedented times.
Hope for Ukraine is available for preorder everywhere books are sold. Author's proceeds to support Ukraine's refugees.
Kyle Duncan is a 35-year publishing veteran and a New York Times bestselling ghostwriter. He's worked with scores of bestselling authors, including John Wooden, Dr. Gary Chapman, Voice of the Martyrs, and Toby Mac. Duncan has an English literature degree from UCLA and writes full-time from his home in San Diego, California. He and his wife, Suzanne, have three biological daughters and an adopted son, Cory Jhenya, who is from Mariupol, Ukraine.
Esther Fedorkevich is a first-generation Ukrainian immigrant and the founder of The Fedd Agency, a literary and entertainment agency in Austin, Texas. Since founding The Fedd Agency in 2003, Esther has represented over 80 New York Times bestselling books. Esther also negotiates deals for film, television, audiobooks, and other derivative products. Esther currently resides in Austin with her husband, Jimmy, and their two kids, Alexi Jane and Paul Gregory.
Chosen Books publishes well-crafted books that recognize the gifts and ministry of the Holy Spirit and help readers live more empowered and effective lives for Jesus Christ.
Baker Publishing Group publishes high-quality writings that represent historic Christianity and serve the diverse interests and concerns of evangelical readers.
Contact:
Rebecca Schriner, (952) 829- 2512, rschriner@bakerpublishinggroup.com; jason@jonesliterary.com