Award-winning Heart & Home Book Series adds third title that combines beautiful devotions, home decorating tips
'Guard Your Heart & Home' helps readers experience spiritual peace in family relationships, living space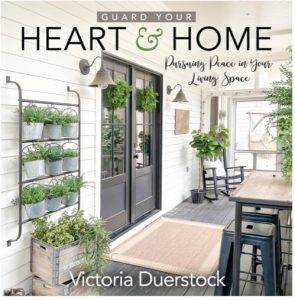 NESBIT, Miss., September 13, 2021—In today's Pinterest-perfect world with never-ending pressures and busy schedules, cultivating beauty and peace within our homes can feel unachievable. In her new gift book, Guard Your Heart & Home: Pursuing Peace in Your Living Space(End Game Press, September 2021), author and speaker Victoria Duerstock taps into her 20+ years of experience in the home furnishings industry to bring readers a beautiful gift book that will help create spaces they enjoy and a peaceful foundation for their family.
"Pursuing peace in our homes is often easier said than done," says Duerstock. "It's a challenge because we live in a world that is anything but peaceful, but Scripture teaches us that as much as we can control our reactions and our environment, we are to live in peace with one another."
Featuring 60 days of devotionals paired with Scripture and decorating tips, Guard Your Heart & Homeshowcases beautiful photographs of living spaces that visually illustrate tangible beauty and peace and offers helpful tips for families, especially newlyweds.
Duerstock is available for interviews and can speak to:
Take the pressure off: stop focusing on "Pinterest standards" and follow these design tips instead
3 practical tips for facilitating peace within your marriage and family
Finding beauty and peace in your everyday life
6 tips to both simplify and elevate your home décor
How to decorate in a way that reflects the spirit of peace
"I wrote this partuclar volume during a season with little faith, hope or love in our culture," says Duerstock. "It's difficult to watch how divided and isolated we have become. I pray this book will inspire peaceful connection and community inside of our homes so that a watching world can observe the power and love of Christ."
The perfect addition to any coffee table or wedding gift, the devotions and decorating tips in this beautiful book will encourage spiritual growth and equip readers to achieve the happy heart and home they desire. 
About the Author
Victoria Duerstock is a multi-passionate creative and entrepreneur fueled mostly by coffee who pursues her dreams with verve and intensity. Wife and mom of three, Victoria divides and conquers the never-ending to-do list while working to maintain her sanity and pleasant demeanor. Her writing journey plunged her deep in the social media landscape and she enjoys sharing her tips and tricks for growth and engagement with others. Recipient of the 2020 Selah Nonfiction Book of the Year, Duerstock has authored six titles, with more on the way. She is the founder and president of End Game Press, a traditional publishing house where ordinary people accomplish extraordinary things. Learn more at www.victoriaduerstock.com.
About End Game Press
Launched by award-winning author Victoria Duerstock in 2020, End Game Press is a traditional publishing house where ordinary people accomplish extraordinary things. End Game Press puts authors first, educating them on the entirety of the publishing process and providing them with the needed training to be successful. With a goal to create beauty and cultivate community, End Game Press publishes fiction, nonfiction, and children's titles into both general and Christian markets. Learn more at www.endgamepress.com.
Media Contact: Shanon Stowe, shanon@iconmediagroup.com