Available for Interviews: Welby O'Brien–
author of Goodbye for Now and Formerly A Wife
A new year often brings conversations about "self-care". But for those facing caregiving, grief, and divorce, true self-care is often a crucial component in maintaining emotional and physical health.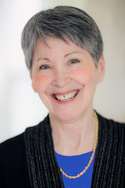 Welby O'Brien pairs her own experience with the stories others who have walked through the valleys of divorce and grief.  A licensed counselor, Welby meets hurting people right where they are, and gives practical, sage wisdom to help people make healthy decisions that can help them take the next steps toward healing.
Self-care is so much more than massages, pedicures, and "me time."  We need to re-consider that terminology, and consider what both scripture and research say about self-care. Sadly, divorces tend to rise right after the holidays, so many in your audience may suddenly be thrust into an unexpected grief.
Welby can address topics such as:
 How self-care needs to be physical, emotional, and spiritual, not just manicures and massages.
 Understanding the stages of grief and why self-care is essential to healing.
 What the Bible says about self-care.
 Learning to say "no" so we can meet our own needs.
 How prayer and meditation fit in when speaking on self-care.
 Welby's personal experience like dealing with grief and divorce. The self-care that was most effective for her.
 How can we minister to those in pain, and encourage loved ones to be mindful of self-care.
Biblical self-care can help your audience thrive through a difficult season!
Welby's books are available for review, and she is available for interviews Monday-Thursday.  Would you be interested in scheduling an interview for your show?
Thank you –
Lori Heiselman
714-553-5181
Welby O'Brien's media kit:https://docs.google.com/document/d/1d9uNYSqAoTSZT6qJ0aw9oCH46ZsOH0N2SWntbyF3LXQ/edit?usp=sharing
ABOUT WELBY O'BRIEN:
Welby O'Brien is a nationally sought after conference speaker and guest lecturer for groups and leadership training. She is an expert on issues such as divorce, grief and PTSD, but what sets her apart is that she has lived it herself, researched it, and shares it all with hungry hearts. Impassioned with encouragement, Welby has been touching many with help and hope.
Welby holds a Master's Degree in counseling from Portland State University and a teaching degree from Biola University. Drawing from her own personal experiences she has authored Goodbye for Now (grief preparation/support), Formerly A Wife (divorce recovery), and LOVE OUR VETS: Restoring Hope for Families of Veterans with PTSD.  She is also a contributing author to Chicken Soup for the Soul: Divorce and Recovery, Chicken Soup for the Soul: The Spirit of America, as well as Shepherding Women in Pain.  Actively involved in leadership and teaching for over 30 years, Welby has also been a welcomed guest on radio and television, as well as featured in video productions.
Welby initiated and facilitates the national support network called Love Our Vets – PTSD Family Support, LLC, and has been reaching thousands with her timely book LOVE OUR VETS: Restoring Hope for Families of Veterans with PTSD . She was also honored as Woman of the Month by Oregon Women's Report. She and her husband live in Portland, Oregon.