Author, pastor Patrick Linnell launches "Grace Bomb: The Surprising Impact of Loving Your Neighbors" May 1 from David C Cook
Grace Bomb Movement Grows Internationally As Christians Respond, Share Love Of Jesus In Action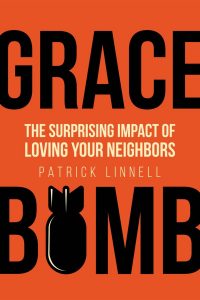 Author, Pastor Patrick Linnell releases a timely resource with Grace Bomb: The Surprising Impact Of Loving Your Neighbors May 1 from David C Cook. The book is a gateway to personal and corporate revival, inspiring readers to put into practice Jesus' command to love our neighbors. In Grace Bomb, Pastor Linnell equips readers to join a movement of simple obedience that leads to world-changing impact.
Grace bombs are intentional acts of love prompted by the Holy Spirit, which can practically look like offering an extra tip to a hardworking server, giving up a seat on an airplane, or making a meal for the ER nurse next door, etc. When a person "grace bombs" a neighbor, spouse or stranger, it is a response to God's call to love those people in generous and surprising ways.
"Small steps of obedience can lead to outcomes beyond what we can even think to ask for or imagine," shares Linnell.  "…followers of Jesus were literally built for this, and by embracing the truths and tools within Grace Bomb, readers will learn about their unique ability as Christians to love people, understand how to recharge their souls by tapping into a supernatural fuel supply, and be helped in recognizing and removing barriers in their hearts that keep them from living out their God given purposes in this one and only life.
"While, like most Christians, I struggle to find my big purpose/calling in life, I now see that we have this beautiful gift of generosity and kindness to offer in our simple everyday lives," continues Linnell. "…this is seen even as businesses and celebrities incorporate giving back or showing kindness…But in contrast to the world, the church has been both equipped and called to this very work. Generous giving should be in the churches' wheelhouse…"
Drawing on rich examples from Scripture and everyday life, and with a foreword written by Joey Tomassoni, Grace Bomb shows how readers can:
Deepen sensitivity to the Holy Spirit
Go beyond cultural expectations of kindness to point people toward Jesus
Overcome barriers to "Grace Bombing," such as fear, busyness and prejudice
Rest in God-given identity and access His supernatural fuel supply
Experience joy and fun while exercising faith beyond Sundays
With inspiring stories from people around the world who have discovered the joy of "Grace Bombing" in a movement that is catching on with Christians and churches internationally, this energizing book helps readers put their love into action. Most importantly, it helps readers use that action to show others the true source of love with no strings attached: Jesus.
Sharing first-hand accounts of "bombs" dropped and received over the past three years of the Grace Bomb movement, Linnell encourages, "In the spirit of Hebrews 10:24, we are considering how to stir one another on to love and good works. When we hear about these simple everyday neighbor-loving actions that really happened, we can better spot the opportunities that God is putting before us even now."
For all the latest Grace Bomb news and more, go to www.gracebomb.org/book, Facebook and Instagram.
About Patrick Linnell:  Throughout Patrick Linnell's nearly two decades in pastoral ministry, God's disruptive grace has been his consistent theme. In 2017, this led to the preaching series that formed the basis for his Grace Bomb book and 2018's birth of the non-profit The Grace Bomb Company. After an overwhelming response from his congregation, Grace Bomb cards and an interactive website, www.gracebomb.org, were branded and born, and stories began to circulate and be shared about these surprising gifts meant to brighten a neighbor's day. Since then, Grace Bomb cards have been requested in all 50 States, with more than 1,000 stories shared through the website alone of intentional acts of love motivated by Jesus. Churches around the nation have also launched Grace Bomb as a sermon series and an ongoing discipleship tool.
With an undergraduate degree in Business and Marketing, Linnell at one time had his sights set on corporate America until God broke in with other plans. Instead, he became a missionary to young adults in the greater Baltimore/DC area while completing a MA in Theology from Columbia International University (CIU). Spending 14 years on staff at Bay Area Community Church in Annapolis, MD, Linnell now leads the Grace Bomb movement as chief visionary and travels to churches around the country to introduce them to this unique discipleship tool. He is the husband of 18 years to Kristen, father of four kids, an aging ice hockey player, and extreme yard work enthusiast.

About David C Cook:  David C Cook is a nonprofit organization dedicated to serving the global Church with life-transforming, Christ-centered materials. Headquartered in Colorado Springs, Colorado—with offices in Illinois, Ohio, Tennessee, and the United Kingdom—David C Cook produces resources that are published in over 150 languages and distributed in more than 170 countries. Originally founded in 1875 as a curriculum publisher, David C Cook now also publishes numerous bestselling books, resources, music (Integrity Music), and media from a variety of award-winning authors and artists. Learn more about David C Cook's mission at DavidCCook.org.
ATTN MEDIA: Patrick Linnell, Grace Bomb review and giveaway copies are available upon request. High-resolution cover artwork and other press materials are available now at https://app.box.com/v/PatrickLinnell-GraceBomb.
For additional information, contact:
Rick Hoganson, Hoganson@comcast.net
Maureen Hoganson, MaureenHoganson@comcast.net
Hoganson Media Relations, 615-459-9870