Annie F. Downs debuts on New York Times best-seller list with latest book, "That Sounds Fun"
Nashville, TN…February 11, 2021 – Best-selling author, podcaster, who many call the "Expert on Fun," Annie F. Downs has made her debut on The New York Times bestseller list with her brand new book, That Sounds Fun.  No. 6 on the Advice, How-To & Misc. list, Downs is in good company, joining other top authors like Sanjay Gupta, James Clear, Joanna Gaines and many more.  Likewise, the book also appears on the Publishers Weekly Hardcover Non-Fiction List at No. 8 as well as hitting USA Today's bestseller list.
"I knew when I was writing this book, it was special," Downs remarked. "This is a topic that is rarely discussed but really important. I couldn't have known how timely it would be for our world. It feels like such an honor to write a book that is connecting with so many people in a real time of need."
In That Sounds Fun, Downs offers an irresistible invitation to understand the meaning of fun, to embrace it and chase it, and to figure out what, exactly, sounds fun to you – then do it! Exploring some research and sharing some thoughts about why fun matters, she shows you how to find, experience, and multiply your fun. With her signature storytelling style and whimsical vulnerability, Annie F. Downs is the friend we all need to guide us back to staying true to ourselves and finding the fun we need.
"When I started the podcast and began asking people what sounds fun to them, my eyes were opened," Downs remarked. "We undervalue and downplay fun and the place fun ought to have in our lives. We don't prioritize the fun things; the simple things. Finding fun changes things. Fun is medicine for a sickness we all have. Searching for fun doesn't mean you're not responsible, and valuing fun doesn't mean you're not grown up! It just means you realize there's something you've lost and are willing to go look for it."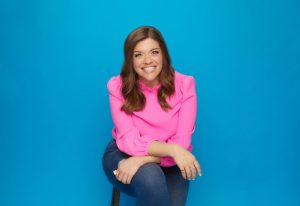 About Annie: 
Annie F. Downs is a New York Times bestselling author, sought-after speaker, and successful podcast host based in Nashville, Tennessee. Engaging and honest, she makes readers and listeners alike feel as if they've been long-time friends. Founder of the That Sounds Fun Network—which includes her aptly named flagship show, That Sounds Fun—and author of multiple bestselling books like
100 Days to Brave, Remember God, and That Sounds Fun. Annie shoots straight and doesn't shy away from the tough topics. But she always finds her way back to the truth that God is good and that life is a gift. Annie is a huge fan of laughing with friends, confetti, soccer, and boiled peanuts (preferably from a back-roads Georgia gas station). Read more at anniefdowns.com and find her (embarrassingly easily) all over the internet at @anniefdowns.
Get Connected with Annie F. Downs:
Website
Facebook
Twitter
Instagram
YouTube
Media Collective Contact: 
Velvet Kelm
the media collective
velvet@themcollective.com
(615) 591-7989
www.themcollective.com