Ann Voskamp to publish debut Children's book, "Your Brave Song," with Tyndale Kids in Spring 2023
Carol Stream, Ill. (January 14, 2022) — Tyndale House Publishers (@tyndalehouse) announced today that Ann Voskamp will publish her book Your Brave Song with Tyndale Kids, to release in the spring of 2023. In Voskamp's debut children's book, Una Rayne has a song in her heart, and that song can change the world. Young readers will travel with Una through her day and see how her sweet song changes a hard day into a day full of joy. This book demonstrates the power of one person to change the world around her. It is precisely for such a time as this.
With the release of this book, multiple New York Times bestselling and award-winning author Ann Voskamp shares her extraordinary talent and heart with kids. Beyond her bestselling books, Ann hosts her A Holy Experience ministry on her website, where she shares the story of Jesus and how his story and the Greatest Story ever told completely changed hers. On her site, she keeps "writing it out here every day, the words [she is] seeking to live—about this wondrously messy, everyday-holy life . . . about finding the beauty and quiet, about slowing to see the sacred in the chaos, the Cross in the clothespin, the flame in the bush."
In sharing about her upcoming children's book, Ann said, "The world needs hope, now more than ever, and Una's song points to hope and ultimately points to Jesus. Where better to start a hope revolution than in the hearts and minds of our precious children?"
Tyndale Kids associate publisher Linda Howard shared, "We are so thrilled to be working with Ann on her first children's book. The beauty of the message and the corresponding illustrations will make this book an instant classic."
Ann Voskamp is represented by Bill Jensen at William K. Jensen Literary Agency, and her upcoming book has been negotiated for international rights. For more information or for media inquiries, please contact Katie Dodillet, katiedodillet@tyndale.com.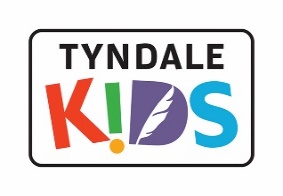 Since its founding in 1962, Tyndale House Publishers has been a voice to trust for generations of readers. Today, Tyndale is one of the largest independent Christian publishers in the world. Tyndale's mission is to make the Bible accessible to as many people as possible in language that they can relate and respond to. Tyndale publishes the Holy Bible, New Living Translation (NLT) and offers nonfiction books that equip readers with Christ-centered insight, counsel, and life-improving stories. In addition, Tyndale publishes fiction from fresh new voices and celebrated authors alike, capturing the imagination of millions of readers. With a deep understanding of the importance of nurturing future generations, Tyndale also publishes children's products that make God's Word and wisdom come alive. Tyndale's independent status allows it to follow its founding model, giving a majority of annual revenue—more than $110 million throughout its history—to charitable missions. With every book purchased, Tyndale readers help meet the physical and spiritual needs of people around the world.
Contact: Katie Dodillet, katiedodillet@tyndale.com, 630.784.5275