Andrew Peterson returns to Ryman Auditorium for
"Easter Monday" events
Livestreaming Internationally, Events Highlight Music From Peterson's 5-Star-Acclaimed Resurrection Letters Anthology
ChildFund, Samaritan Ministries, B&H Publishing Group Sponsor Events Featuring Taylor Leonhardt, Skye Peterson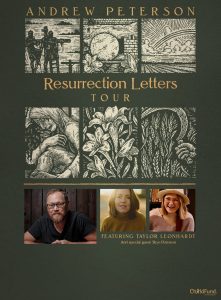 Recording artist, songwriter, producer, filmmaker, publisher and award-winning author Andrew Peterson returns to Nashville's Ryman Auditorium, bringing his "Easter Monday" to the iconic venue for back-to-back events April 5. Featuring a full band, singer / songwriter Taylor Leonhardt and special guest Skye Peterson, the limited capacity evening presentation is already nearly sold-out and a second matinee has been added.
Peterson is also inviting those not able to attend in-person to join the "Easter Monday" event via livestream from anywhere in the world. The livestream begins at 7:00 pm CT on April 5 with single household and congregation / group tickets available now at andrew-peterson.com/easter-monday. Congregations / groups that order before March 26 will also receive a personalized greeting video from Peterson.
While at the Ryman, Peterson will lead fan favorites from his expansive song catalogue along with a special focus on his highly-acclaimed Resurrection Letters Anthology that includes the Prologue, Volume 1 and Volume 2 album trilogy. Prologue is a collection of five "waiting songs" meant to remind listeners of the gravity of the crucifixion while Volume 1 features his globally-sung call and response anthem for the church, "Is He Worthy," and begins with the heartbeat of the resurrected Christ, exploring the resurrection itself and its centrality to Christianity. Volume 2 songs delve thematically into the implications of Christ's resurrection victory over sin and death.
"The Resurrection Letters songs were ten years in the making. I cried more joyful tears during the process of writing and recording them than any others because the subject matter is so very good and beautiful and true," says Peterson. "It's my sincere hope that the same feeling will be reflected on this Easter Monday – that you'll be moved to greater gratitude, greater awe, and greater love for our Lord after dwelling on these songs and singing them with us. He is risen, indeed."
This year's "Andrew Peterson's Easter Monday at the Ryman" concert is being sponsored by ChildFund, a child development organization based in Richmond, VA that is committed to improving the well-being of children in some of the world's poorest places. The event is also sponsored by Samaritan Ministries, a community of Christians paying one another's medical bills, and B&H Publishing Group, an imprint of LifeWay Christian Resources and a team of mission minded people with a passion for taking God's Word to the world.
In addition to his music and touring, Peterson's novels in his wildly imaginative fantasy adventure series, The Wingfeather Saga, have released in special editions from WaterBrook/Penguin Random House. The six books are available as collector's hardcovers that include all new illustrations and hand-drawn maps, intrinsic to the classic and imaginative Wingfeather style.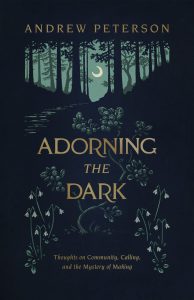 Peterson also released his first adult trade book, Adorning the Dark: Thoughts on Community, Calling, and the Mystery of Making. Receiving awards from Christianity Today, WORLD Magazine, The Gospel Coalition and more, this memoir of Peterson's journey shares the intersection of his songwriting, storytelling and vocation, along with nuts-and-bolts exploration of the great mystery of creativity.
For more information about Peterson, including the latest on his music, books, touring and more, visit www.Andrew-Peterson.com, Facebook, Twitter, Instagram and YouTube.
Upcoming Andrew Peterson Events:
About Andrew Peterson:  Recording artist, songwriter, producer, filmmaker, publisher and award-winning author of The Wingfeather Saga, Andrew Peterson is also founder and president of The Rabbit Room, which has published thirty books to date and fosters community and spiritual formation through music, story and art. He further launched a film and TV production company, Shining Isle Productions, to produce an animated film based on his bestselling books. Known for songs like "Dancing In The Minefields," "Be Kind To Yourself," "Is He Worthy," "Don't You Want To Thank Someone," "The Silence Of God," "Nothing To Say," "You'll Find Your Way" and more, Peterson has been named "one of the foremost singer/songwriters around" and has received multiple "best album of the year" nods from critics along with three Dove Award nominations. Taking his hits and fan favorites on the road, Peterson's touring draws capacity crowds at venues around the world, including several sold-out events at the historic Ryman Auditorium in Nashville.
About Centricity Music:  Centricity is an independent Christian music company based in Franklin, TN. Founded in 2005 with a commitment to artist development and stylistic diversity, its artist roster includes Andrew Peterson, Apollo LTD, Caitie Hurst, Chris Renzema, Coby James, Cross Point Music, Jason Gray, Jonny Diaz, Jordan Feliz, Lauren Daigle, Neon Feather, North Point Worship, Patrick Mayberry, PEABOD and Unspoken. Providing label and publishing services, Centricity is a family-owned organization, and they like it that way. The committed work of its staff and artists has yielded successes such as Grammy Awards, Billboard Awards, Dove Awards, K-Love Fan Awards, and multiple Gold and Platinum Albums and Singles. For more information on Centricity Music, visit www.centricitymusic.com.
About ChildFund International:  ChildFund International works throughout Asia, Africa and the Americas, including the United States, to create connections that allow children to choose and change their stories wherever they are. Its programs address the underlying conditions that prevent any child or youth from achieving their full potential. Last year, the organization reached 10.5 million children and family members. About 200,000 Americans support its work by sponsoring individual children or investing in ChildFund programs. Find out more at www.ChildFund.org.
About Samaritan Ministries:  Samaritan Ministries is a Biblical solution to health care. It is not insurance. The ministry delivers authentic, compassionate, and personal service in the name of Christ to enable and inspire members to provide for one another's medical needs through prayer, encouragement and financial support. For more information, go to samaritanministries.org.
About B&H Publishing Group:  B&H Publishing Group, an imprint of LifeWay Christian Resources, is a team of mission minded people with a passion for taking God's Word to the world. Because we believe Every Word Matters® we seek to provide intentional, Bible-centered content that positively impacts the hearts and minds of people, inspiring them to build a lifelong relationship with Jesus Christ. Among our print and digital releases for the trade, church and academic markets, titles include "The New York Times" No. 1 bestsellers "The Love Dare" and "The Vow," No. 1 CBA bestseller "I Am a Church Member," as well as the newly-revised Christian Standard Bible (CSB) version. For more information, go to www.bhpublishinggroup.com.
ATTN Media:  For Andrew Peterson photos, "Easter Monday" poster, album cover art and more press materials, go to: https://app.box.com/v/AndrewPetersonEasterMonday.  For additional information, music, interviews, etc., contact: Rick Hoganson, Hoganson Media Relations, 615-459-9870, Hoganson@comcast.net.