An Interview with Devin Maddox, Trade Group Publisher
for B&H Publishing Group
THE CHURCH, COVID-19, AND WHAT HAPPENS NEXT FOR CHRISTIAN PUBLISHERS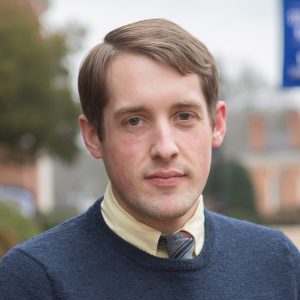 Recently ECPA president Stan Jantz had a conversation with Devin Maddox, Trade Group Publisher for B&H Publishing Group. Stan asked Devin about the ways publishers can serve pastors and the church during the current crisis, as well as in the next few months and years when the world emerges from the pandemic. 
---
SJ: What are the two or three critical challenges facing the church right now?
DM: When I think of churches, I think about church members first. I think we—publishers—are tempted to think of pastors (only) when we think of churches, and for good reason. Pastors are motivated readers and dedicated to church service. So, I will offer one critical challenge for pastors, and one critical challenge facing church members.
Church Members: I think loneliness is the through line for many challenges church members are facing. Younger, older, and middle-aged church members are disconnected from community, and every other challenge in their life is magnified by loneliness/disconnection.
Pastors: Pastors always face the same challenges their membership faces, but they do so with the burden of putting everyone else first. They are those who must figure out when and how to meet (safely) in the future. Yet, they too are lonely and struggling. Nobody is calling to check on how the pastor is doing in quarantine, and many will burn out without proper soul care. 
---
SJ: As the country emerges from the pandemic, what role will churches play in helping people regain their emotional, financial, and spiritual footing?
DM: The church is the spiritual infrastructure of every community, city, and nation. Many churches are being refined right now by the pressure of the moment and will be proven healthier on the other side. Other churches, sadly, will not make it–not for financial reasons (only), but because there was not much spiritual life to nurture during the pandemic in the first place. I predict a spiritual baby boom on the other side of the pandemic, where healthy churches will see a multiplying effect when we can all gather again. Initially, there will be a surge in attendance due to pent up demand. Appetite for things like VBS, in-person Bible study, and student ministry activities will be at an all-time high. Churches that are ready to meet that demand will benefit (as will their members, and their visitors). 
---
SJ: You have a seminary degree and are nearing completion of your PhD. As a publisher with a unique background and perspective on the church, what are you doing right now to help the church?
DM: Stan, we all know PhDs are "doctors that can't actually help anybody." All kidding aside, I have divided my time in five areas. 1) I am continuing to lead a small group at our church (a two year old plant that moved into permanent space in January), 2) I have been working outside in our garden/yard almost every day (so far, repaired our deck, built a treehouse, installed a basketball goal), 3) run at least 1 mile+ every day, regardless of weather, 4) worked at B&H, and 5) led a Life Together Zoom book club with members from Canada, NYC, Texas, Michigan, and Kentucky (my PhD studies have centered on Dietrich Bonhoeffer–our first meeting was "Zoom-bombed" by literal Nazis who seized our meeting link, and drew swastikas all over the screen).
---
SJ: You have a heart for pastors. What do pastors need most from publishers in the next year?
DM: I do not think pastors need publishers to innovate the intellectual content of Christianity. Rather, I dothink pastors need publishers to innovate in the areas of content delivery, new author voices, and visual presentation.
We have seen a generation of bestsellers that have delivered solid content on felt needs that are not going away in the next generation (marriage, parenting, prayer, discipleship, preaching, etc.), even if the bestselling authors retire. The next generation will not, however, rely on their parents' spiritual mentors alone. The opportunity for publishers is to help pastors by raising up new voices this generation can claim as their own, that can deliver compelling content on the same felt needs.
One more thing, though: since this generation is marked by "the rise of the nones," I think the starting point for felt needs is much further back than previous generations. In the next year, we need to think seriously about laying spiritual foundations that are sturdy enough to weather moments like the one we are in. We need to ask and answer the most basic questions: "Why church attendance?"; "Is church membership necessary?"; "How should I pray?"; "How can I read the Bible on my own?"; "Is the God of the Bible mean/angry?" etc. I cannot overstate what a major opportunity this type of resource is for churches reaching the next generation. 
---
SJ: During the pandemic, LifeWay.com has been reaching a lot of readers for B&H and a host of other ECPA publishers. What accounts for the effectiveness of this online store?
DM: For LifeWay, many key factors led to a season of significant growth. First, LifeWay.com has been building momentum after closing brick-and-mortar stores before the pandemic, recovering loyal customers who began migrating to a different way of shopping with LifeWay over the last year. The dot com channel was increasing in unique customer traffic, transactions, and revenue every month. However, during the pandemic, the channel saw exponential growth. The number one factor for success was whether or not LifeWay's distribution center could safely remain open during the pandemic. Fortunately, the DC is located in a part of the country that was not hit as hard as other places, so the men and women that work there were able to continue to work safely and uninterrupted. At the same time–unfortunately for all of us–almost every brick and mortar retailer shut down, and almost every online retailer could no longer safely operate without significant disruption (or had to deprioritize books in favor of PPE). Hopefully, all ECPA publishers, including B&H, will see increased sales opportunities for the industry on LifeWay.com post-pandemic, and see the marketplace open back up, and be able to safely stay open in the near future.