Amy Simpson joins Tyndale House as Associate Publisher, Bibles
CAROL STREAM, ILL. — (July 12, 2021) — Publishing veteran, author, and leadership coach Amy Simpson has been named Associate Publisher, Bibles, by Tyndale House Publishers. She will join the leadership team and direct Bible acquisition and development activities for the Bible Group.
Amy has previously filled editorial, acquisitions, publishing, and executive leadership roles at Group Publishing, Christianity Today, and Moody Publishers.
"We are so pleased that Amy has agreed to join our Tyndale team. She brings rich and varied experience that will provide unique focus in our drive to continue Ken Taylor's legacy to deliver highly accessible Bibles to a culture increasingly in need of connections to the Word of God," said Tyndale Bible Publisher Blaine Smith.
Amy is a certified life & leadership coach and author of the award-winning books Troubled Minds: Mental Illness and the Church's Mission; Anxious: Choosing Faith in a World of Worry; and Blessed Are the Unsatisfied: Finding Spiritual Freedom in an Imperfect World (all published by InterVarsity Press).
Amy holds an English degree from Trinity International University, an MBA from the University of Colorado, and CPCC certification from Coaches Training Institute. She and her husband, Trevor, live in the suburbs of Chicago with their two young-adult daughters and three dogs.
"I care deeply about the written word—particularly about the Word of God and helping people find hope in its pages," Simpson said.
Tyndale House is a leading publisher of Bibles in the New Living Translation and other translations, with category leaders the Life Application Study Bible (study), the Inspire Bible (creative journaling), The One Year Bible (daily reading), Every Man's Bible (men's), and the Filament Bible Collection (print + digital).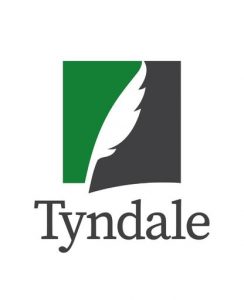 Since its founding in 1962, Tyndale House Publishers has been a voice to trust for generations of readers. Today, Tyndale is one of the largest independent Christian publishers in the world. Tyndale's mission is to make the Bible accessible to as many people as possible in language that they can relate and respond to. Tyndale publishes the Holy Bible, New Living Translation (NLT) and offers nonfiction books that equip readers with Christ-centered insight, counsel, and life-improving stories. In addition, Tyndale publishes fiction from fresh new voices and celebrated authors alike, capturing the imagination of millions of readers. With a deep understanding of the importance of nurturing future generations, Tyndale also publishes children's products that make God's Word and wisdom come alive. Tyndale's independent status allows it to follow its founding model, giving a majority of annual revenue—more than $110 million throughout its history—to charitable missions. With every book purchased, Tyndale readers help meet the physical and spiritual needs of people around the world.
Contact: Katie Dodillet, katiedodillet@tyndale.com  630.784.5275
---
Tyndale and Tyndale's quill logo are registered trademarks of Tyndale House Ministries.