Amy Kavelaris signature art and poetry on display in new book, "Good Morning, Little One: New Mercies and Prayers to Carry You Through the Day"
Elegant picture book encourages families to start each day with fresh hope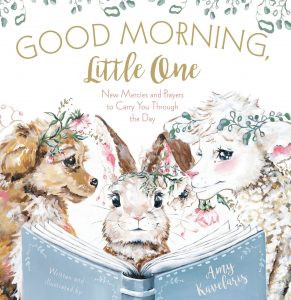 NASHVILLE, Tenn. (Jan. 13, 2022) – Amy Kavelaris' bestselling book Good Night, My Darling Dear warmed the hearts of families around the world during their bedtime routines. Now Kavelaris shares a beautiful message of hope to create a calm, peaceful and loving start each morning for children with her new picture book, Good Morning, Little One: New Mercies and Prayers to Carry You Through the Day, releasing Tuesday, Feb. 8.
Kavelaris is an artist, designer and entrepreneur who has been capturing nature's beauty since she was old enough to hold a pencil. Captivated most by the study of light, Kavelaris vividly recalls sketching and writing poetry while sitting in a tree overlooking a lake as a child. Now her work can be spotted in Target, Walmart, Anthropologie, Altar'd State, Better Home & Gardens as well as in homes around the globe.
Kavelaris' painting style for children is showcased on every page of Good Morning, Little One: New Mercies and Prayers to Carry You Through the Day — whimsical & playful with a touch of bohemian elements that invites viewers into a charming and delightfully elegant experience.
"With every book that I release, a piece of my soul is tethered within the binding and this project is quite possibly my favorite to date," said Kavelaris. "Let's equip our babes for the days ahead and show them there's fresh hope in each new day, when we seek Him."
Good Morning, Little One: New Mercies and Prayers to Carry You Through the Day reassures children that God is carrying them throughout the day with morning affirmations and frame-worthy illustrations. Featuring gorgeous floral art, adorable animal drawings and words of hope, Good Morning, Little One reminds children of God's love, security and peace for the day ahead.
Kavelaris wrote Good Morning, Little One during the pandemic, sharing that it was her 3-year- old daughter who inspired her. "Throughout the lockdowns last year, our then discerning 3-year-old kept randomly asking 'Is God Carrying Us?'," recalls Kavelaris. "Slightly bewildered by her awareness, my heart skipped a beat at the opportunity to share His Word with her. Yes, His scripture is replete with this Truth & there's even more! Thus began the writing process of our new Good Morning book."
Families will find soothing nature scenes of little lambs, bunnies and puppies awakening with the sun. The playful critters and woodland animals enjoy each morning by taking notice of the reminders of God's scriptural promises. By taking notice of their surroundings in nature, the woodland creatures are reminded that He finds us when we're lost; protects us under His wings; sings over us, carries us, and delights in us. Good Morning, Little One will show children to be mindful of God's presence every day.
A beautiful companion to Kavelaris first picture book, Good Night, My Darling Dear, this inspirational picture book:
reassures children ages 4 to 8 that God carries them through good days, hard days, and anxious days
encourages children to begin the day with courage in their heart
offers an interactive element where readers can look for fourteen scripture references hidden within the pages
shares biblical promises of God's love, purpose, and protection
gives children confidence to be brave in scary and unexpected situations
Good Morning, Little One makes a touching keepsake gift book Easter baskets, baby showers, and other new beginnings such as adoption, a new sibling, or one's first day of school.
Good Morning, Little One: New Mercies and Prayers to Carry You Through the Day (ISBN: 9781400231942) releases on February 8, 2022 everywhere books are sold.
Author and illustrator, Amy Kavelaris
Amy (Kavs) Kavelaris's work can be spotted in Target, Anthropologie, Bebe au Lait, and Better Homes & Gardens, as well as in homes around the globe. She has collaborated with countless brands, including Skechers Shoes and Pampers Diapers, and served as a judge for the Miss America Foundation. Her impressionistic, bohemian style merges with her painterly whimsy. Amy and her husband live in the Midwest with their three small girls. See her art at bloomprintsstudio.com and @amykavs on Instagram. https://amykavs.com/
About Tommy Nelson
Tommy Nelson® is the children's division of Thomas Nelson. As a leading provider of Christian content, Tommy Nelson publishes a wide variety of high-quality, enjoyable products that are consistent with the teachings found in the Bible. Tommy Nelson's award-winning products are designed to expand children's imaginations and nurture their faith while inspiring them to develop a personal relationship with Jesus. For more information, visit www.tommynelson.com.