Amy Julia Becker's "White Picket Fences" receives
Award of Merit from Christianity Today
CT's 2019 Book Awards recognize works "most likely to shape evangelical life, thought, and culture"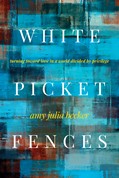 Colorado Springs, Colo. (December 12, 2018) – Christianity Today has announced that NavPress's (@NavPress) White Picket Fences: Turning toward Love in a World Divided by Privilege, by Amy Julia Becker (@amyjuliabecker), has received an "Award of Merit" as part of the iconic Christian magazine's 2019 Book Awards. The entire list of winners is available here: CT Book Awards.
In White Picket Fences, Becker welcomes readers into her life, from the charm of her privileged southern childhood to her adult experience in the northeast, and the denials she has faced as the mother of a child with special needs. She shows how a life behind a white picket fence can restrict even as it protects, and how it can prevent us from loving our neighbors well. The book invites readers to respond to privilege with generosity, humility, and hope, and presents to us questions we are afraid to ask, so that we can walk further from fear and closer to love, in all its fragile and mysterious possibilities.
"What an honor to be included on this list," said Becker. "I have been so encouraged by the responses from people across the country who are eager to engage in conversation about the challenging topic of privilege. I've learned so much in conversation with women and men who are considering the painful aspects of social divisions and who are seeking out ways to participate in God's healing work."
In all, twenty-seven books were recognized in thirteen different categories, which included "Theology/Ethics," "Politics and Public Life," and "History/Biography," among others.White Picket Fences, which released October 2018, was one of two books recognized in the "CT Women" category, along with Perfectly Human by Sarah C. Williams.
"We couldn't be more pleased for Amy Julia," said Don Pape, Publisher, NavPress. "The CT Book Awards are recognized as some of the most prestigious book awards in Christian culture, and White Picket Fences deserves to be in that discussion. It is a culture-shaping book that will have a profound impact on how privilege is studied and discussed for years to come."
Wrote Ruth Everhart, pastor of Hermon Presbyterian Church in Bethesda, Maryland, and author of Ruined: A Memoir about White Picket Fences in the Christianity Today awards announcement, "Amy Julia Becker writes from her context as an affluent white woman who could live comfortably within the white picket fences of suburbia. Yet she chooses to broaden her definition of neighbor. Told with grace and humility, this memoir will be a helpful companion to those who are wrestling with similar questions about privilege."
Added Gabe Lyons, author and founder of Q Ideas, "Without shaming or victimizing, Becker considers painful truths and beautiful possibilities for healing the divisions of our present moment."
Additional information about White Picket Fences and other NavPress resources are available at www.navpress.com.
About NavPress:  The NavPress mission is to advance the calling of The Navigators by bringing biblically rooted, culturally relevant, and highly practical products to people who want to know and love Christ more deeply. Through The Message Bible and other insightful resources, NavPress seeks to bring positive spiritual movement to peoples' lives. In January 2014, NavPress entered into an alliance with Tyndale House Publishers to strengthen and better position NavPress and its rich content for the future. NavPress provides books and other content that bring spiritual impact and life transformation, and help lead in the mission of making disciples.