Acclaimed Christian music artist Natalie Grant and renowned author/speaker Charlotte Gambill release new book, "Dare to Be"
Inspiring readers to step into the fullness God designed for them, Natalie and Charlotte challenge readers to embrace moments when the security of safety must be traded for the bravery of vulnerability
"We often want to know the behind-the-scenes to some of our favorite events and the lives of some of our favorite people. That is exactly what Dare to Be offers, but it also gives more. After reading this book, you will walk away inspired, challenged, and ready to do the thing you've been wanting to do. It's a page-after-page reminder that God is faithful."
––Annie F. Downs, New York Times bestselling author of That Sounds Fun
"This book is such a beautiful overflow of what God has done in Charlotte's and Natalie's lives. I have no doubt it's going to encourage you as it's encouraged me and challenge you to step out in faith, no matter how crazy it seems."
––Kari Jobe, Grammy-nominated worship artist
"Dare to Be rekindles that fire dwelling inside you, reminding you that no matter what life throws at you, if you don't "dare to be," you'll never know what could have been."
––Sadie Robertson Huff, author, speaker, and founder of Live Original
---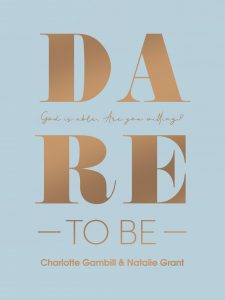 (NASHVILLE, Tenn.) June 8, 2021—"I dare you," writes acclaimed Christian music artist Natalie Grant and renowned author and speaker Charlotte Gambill in their forthcoming book, Dare to Be: God Is Able. Are You Willing?  (September 7, 2021, Harvest House Publishers). "The challenge that I dare you presents is one we all respond to differently. Some see it as an opportunity to prove themselves, others hear it as a challenge to their competence. Yet it's often the I dare you moments that push us beyond where comfort could keep us and the familiar would fence us in."
Inspiring readers to step into the fullness God designed for them, Natalie and Charlotte challenge readers to re-embrace those I dare you moments, which were so prevalent in childhood, and dare yet again to unlock their full potential with childlike excitement and biblical courage.
Dare to Be unveils the very honest account of two girls who embarked on a journey that began with a dare. Natalie and Charlotte share with readers their highs and lows, the lessons and the moments that became pivotal.
In 2012, Natalie and Charlotte founded Dare To Be and hosted their very first Dare To Be Live Event (designed to give women the experience of a large conference packed into a single evening). These nights include storytelling, worship, and inspiring moments of recognition and honor. At each event, Natalie and Charlotte take an offering to help lift the burdens of a woman they're planning to honor in the next event city. Over the years, cars have been purchased, mortgages paid, and tuitions covered. The hope for each of these evenings is to open up space in women's hearts, daring them to embrace all they're created to be in Christ.
Since 2012, Dare To Be has become so much more than an annual event. It's become a community for daily connection for women around the world offering:
A weekly podcast with Natalie and Charlotte
Devotional content
Virtual prayer meetings
Quarterly virtual "Home Parties" that allow women to connect and gather together from their own homes.
Now, a series of Dare to Be books are being added to that brand. The premier book shares the core of this message, empowering readers to break away from the mundane and start living to magnify God in order to find and fulfill their divine destiny.
Readers can look forward to:
a devotion at the end of each chapter including questions for discussion and reflection
intimate stories and life lessons from Natalie and Charlotte
learning to recognize God's voice and say "Yes!" to all of God's promptings
encouragement and guidance to embark on new adventures
learning to embrace moments when the security of safety must be traded for the bravery of vulnerability
"We are believing and praying the pages will bring an impartation of God's spirit—and that's why we want you to not just read each chapter but also start to write your own story. We invite you to take the same dares we took, to dare to believe, to begin, to build. . . We are praying that as you open every chapter, the Holy Spirit will guide and nudge you where you need to pause, reflect, and maybe step into the unknown with your all-knowing God," share Natalie and Charlotte.
Natalie and Charlotte invite readers to read, to journal, to worship, to pray, and to embrace not just the words on the page but the adventure that awaits. Readers will ask themselves, "What if the best chapter of my life is yet to be written?"
Dare to Be will challenge readers to break away from the mundane and start living to magnify the One who wants to ignite them to fulfill their divine destiny. This book was written for fellow dreamers who know that they're called into the fullness that God has predestined for them. Dare to Be is here to cheer them on—to strengthen their soul and encourage them to venture beyond life as they know it.
More information on the book can be found at https://daretobebook.com/.
Natalie Grant is an eight-time GRAMMY® nominee and five-time GMA Dove Awards Female Vocalist of the Year. She has garnered more than 500 million streams and multiple number #1 albums and singles on the Billboard charts. A respected author and philanthropist, she is the cofounder of Hope for Justice, a nonprofit organization fighting human trafficking with 32 offices across 10 countries and 5 continents that has helped more than 100,000 children in the past year.
Charlotte Gambill has an infectious love for life, a deep love for people, and a zealous love for God's house. Her passion is to build the local church across the earth, to see people reach their full potential, and to develop and strengthen leadership. Known for her practical, humorous, and passionate application of God's Word, she is an author, speaker, and mother. Charlotte, who leads LIFE Church, UK in England with her husband, Steve, has authored more than ten books.
Harvest House Publishers, a Christian publishing company based in Eugene, Oregon, publishes more than 100 books per year and carries a strong backlist offering more than 1,500 titles. Over 145 million Harvest House books have been sold worldwide through diverse distribution channels, and additional millions have sold in more than 75 languages.
MEDIA CONTACTS:
Morgan Canclini-Mitchell, morgan@twopr.com, 615-933-8570
Lisa Bergmanis, lisa@twopr.com, 573-692-5641