Abingdon Press wins ECPA 2018 Christian
Book Award®
Who Lynched Willie Earle? compels modern Christians to 
understand both race and faith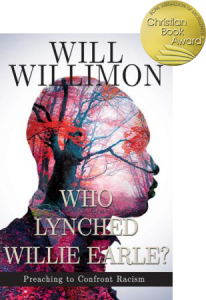 (Nashville, TN) – Abingdon Press is excited to announce Who Lynched Willie Earle? Preaching to Confront Racism by author William H. Willimon is the winner of the Evangelical Christian Publishers Association (ECPA) 2018 Christian Book Award® in the Ministry Resources category.
In Who Lynched Willie Earle? Willimon encourages preachers to see American racism as an opportunity for Christians to honestly name our sin and engage in acts of "detoxification, renovation, and reparation." Preaching that confronts racism powerfully communicates salvation from the sinful narratives of American white supremacy. It hears black pain, names white complicity, and offers a Gospel-centered critique of American exceptionalism and civil religion.
"Will Willimon's books are inspiring, creative, humorous, prophetic, and edgy. That's in part how the author makes the lynching of Willie Earl in 1947 so relevant today," notes Paul Franklyn, Associate Publisher at Abingdon Press. "It's an honor to receive this recognition," says Will Willimon. "I've been working on this book for fifty years, ministering to 'America's Original Sin' (Jim Wallis) of racism and enjoying the task of speaking up and speaking out in the pulpit. My purpose was to equip and to encourage fellow preachers and I'm pleased to have been honored in the Ministry Resources category."
The award was presented in Washington D.C., May 1, 2018, during the ECPA Leadership Summit. "For 40 years ECPA has recognized excellence in Christian publishing through the Christian Book Award® program," says Stan Jantz, executive director of ECPA. "We are grateful to the publishers and their authors who create and produce these Award-winning books and Bibles. They are prime examples of the effective way publishing fulfills ECPA's mission: To make the Christian message more widely known."
Abingdon Press is the primary publishing imprint for The United Methodist Publishing House and has a tradition of crossing denominational boundaries with thought-provoking and inspirational books. Abingdon Press titles include a wide array of quality Bibles, Bible studies, small group studies, Christian living, fiction, devotional, academic, professional, and reference titles published each year to enrich church communities across the globe. Visit AbingdonPress.com.
Contact:  Lindsey Sparrow, Associate Marketing Manager

(615)749-6420  lsparrow@abingdonpress.com
---
Praise for Who Lynched Willie Earle?: Preaching to Confront Racism

"Will Willimon makes another great start at helping America be honest about race, especially those of us who deem ourselves followers of Christ. White privilege and Christianity do not mix. A must-read for Christians and all people of goodwill."

—Frank A. Thomas, Nettie Sweeney and Hugh Th. Miller Professor of Homiletics and Director of the Academy of Preaching and Celebration, Christian Theological Seminary, Indianapolis, IN