Abingdon Press Christmas Book, All I Really Want,
Named An ECPA Top Shelf Book Cover Award Winner
Contact:
Brenda Smotherman
Associate Publicity Manager
Abingdon Press
E: bsmotherman@abingdonpress.com
P: 615-749-6290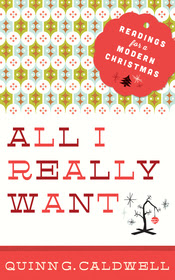 Nashville, Tenn.— Abingdon Press would like to congratulate minister and author Quinn G. Caldwell and the design work of David Carlson at Studio Gearbox for the book All I Really Want: Readings for a Modern Christmas having been selected by ECPA's Top Shelf Book Cover Award program as one of 11 titles designated as the top designs of the year.
The book's designer, David Carlson at Studio Gearbox, commented about the design saying that "the book contains smart, witty, and hopeful readings about the deeper meaning that underlies the season. The cover attempts to reflect the light-hearted and witty vibe of the content."
The weeks leading up to Christmas can spark a strong spiritual longing for more in churchgoers and non-churchgoers alike. Although it may never be articulated, we sense beneath those longings a yearning for something holy, something beautiful, an experience of God. All I Really Want: Readings for a Modern Christmas, from the witty and light-hearted musings of Caldwell, offers readings for the harried, hurried, and spiritually hungry in the season of Christmas. A book to inspire modern readers who want to experience meaning during a time that is often turned into a commercial and frivolous season. For each day in December, and for the twelve days following Christmas, All I Really Want presents one reading for the morning and one for the evening consisting of a Bible passage, a short reflection, and a prayer.
The Evangelical Christian Publishers Association presents the ECPA Top Shelf Award to promote and recognize outstanding book cover design in the Christian publishing industry. The program focuses on the following design merits: appropriateness for the market, level of conceptual thinking, and quality of the execution. Judges are not bound by number of covers to choose as they have the freedom to truly choose the best designs of the year.
Abingdon Press is the publishing imprint for The United Methodist Publishing House and has a tradition of crossing denominational boundaries with thought-provoking and enjoyable books. It has a commitment to providing the best, most effective religious publications available which include a wide array of quality Christian living, fiction, devotional, academic, professional, and reference titles published each year to enrich church communities across the globe. Visit them online at AbingdonPress.com.
###