"A Saint a Day: 365 True Stories of Faith and Heroism" features daily, fascinating and historical stories for kids
Daily devotional introduces children to more than 300 Saints who did extraordinary things for God. Releases Tuesday, Nov. 23.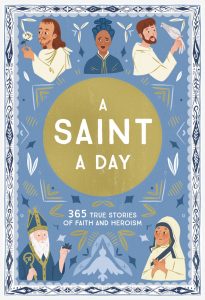 NASHVILLE, Tenn. (Nov. 11, 2021) – Mother Teresa left her family at age 18 to become a missionary. St. Patrick helped spread Christianity to Ireland. St. Jerome translated the Bible into Latin. St. Jacinta Marto was a prayer warrior who led a crowd of 70,000 people in prayer at only 10 years old. Author Meredith Hines presents a new resource for learning about the lives of Saints and their legacies of faith for young believers in A Saint a Day: 365 True Stories of Faith and Heroism releasing Tuesday, Nov. 23 everywhere books are sold.
The word saint refers to all Christians, but A Saint a Day focuses on Saints with a capital S—those who have been officially recognized by the Catholic Church. To be recognized as a Saint, a few things must happen. For example, when a righteous person dies, witnesses provide evidence of the person's love for Jesus to the Catholic Church. A Saint a Day: 365 True Stories of Faith and Heroism is a new resource to teach children to walk in faith, act justly, and lead with kindness and humility.
"I wrote A Saint A Day to give children and parents an engaging introduction to the Saints, who are heroes of the Christian faith," said Hinds. "I think of each devotional as a handshake with a Saint. I want readers to see how each of these Saints, as different as they were, gave everything they had to Jesus. Some Saints were parents and others were priests. Some were wealthy and some had nothing. Some were children and others lived to be very old. But each of the Saints had this in common – Jesus was the center of their life. They lived for Him and they inspire us to do the same – to give Jesus everything."
A Saint a Day: 365 True Stories of Faith and Heroism readers will learn about Saints, Venerables and Blesseds from all over the world including Africa, the Philippines, South America, South Korea, Mexico, and the United States like Oklahoma, Hawaii, Illinois and more. Children also will learn fascinating facts like who was the first American-born Saint, the first Cuban priest and the first Native American to become a Saint.
Each daily summary can pique the natural curiosity of kids as they discover fun and distinctive details such as who taught the power of children prayers, who had a strange diet of locusts and honey, who was nicknamed the "walking dictionary," who the Apostles chose to replace Judas Iscariot, who played the accordion, who sat on a 55-foot-high pillar for 36 years and who had a pet lion.
Parents also can find A Saint a Day: 365 True Stories of Faith and Heroism to be a useful tool to prompt thoughtful conversation and value-driven lessons, as Hines shares the considerable challenges that many Saints faced during their life including war, racial tensions, illness, false accusations and more.
"I can't imagine life without the encouragement of the Saints," said Hinds. "I find so much help and hope from the stories of their lives. As I researched more than 300 Saints, who lived throughout history and across the world, I became convinced that there is no circumstance or question or challenge that could come up in my life that hasn't already been faced by one of the Saints."
A great choice for educational and spiritual development, A Saint a Day: 365 True Stories of Faith and Heroism is perfect for homeschool, Sunday school, Catholic school, a first Communion or graduation gift, or simply a child's time alone with God. Written for ages 8 to 12, A Saint a Day: 365 True Stories of Faith and Heroism can help children grow in their understanding of church history, the long history of people of faith and better understand how they can love and serve God.
A Saint a Day: 365 True Stories of Faith and Heroism (ISBN: 9781400228539) will be released on November 23, 2021 everywhere books are sold.
About the author, Meredith Hines
Meredith Hinds is a freelance writer and editor who develops books for all audiences and ages, particularly in the Christian market. She's worked with bestselling authors Philip Yancey and Mark Batterson, and she served as a collaborator, abridger, consultant and teammate for many others. She's always up for a good story. Hinds lives in Colorado with her husband and three young children.
About the illustrator, Isabel Muñoz
Isabel Muñoz studied fine arts at the Complutense University of Madrid, Spain. To paint for a living was her dream, and now she's proud to be the illustrator of several children's books. She works from a tiny and colorful studio in the north of Spain. You can follow her work at isabelmg.com.
About Tommy Nelson
Tommy Nelson® is the children's division of Thomas Nelson. As a leading provider of Christian content, Tommy Nelson publishes a wide variety of high-quality, enjoyable products that are consistent with the teachings found in the Bible. Tommy Nelson's award-winning products are designed to expand children's imaginations and nurture their faith while inspiring them to develop a personal relationship with Jesus. For more information, visit www.tommynelson.com.
Media contact:  Natividad Lewis, Publicist, 931.698.9620  natividad.lewis@harpercollins.com