"A Chronicle of Grief" and "Healing Racial Trauma" receive 2020 Foreword INDIES Awards
WESTMONT, IL—Two IVP titles, Healing Racial Trauma and A Chronicle of Grief, were honored with 2020 Foreword INDIES Book of the Year Awards.
A Chronicle of Grief: Finding Life After Traumatic Loss by Mel Lawrenz received top honors as the gold award winner in the grief/grieving (adult nonfiction) category. "Mel's book grew out of posts he wrote in the months following the loss of his daughter," said Al Hsu, senior editor for IVP. "The vulnerability of his grief and the honesty of his pain resonated with so many. While we wish Mel had not had occasion to write this book, we are grateful that his words are helping others walk through similar circumstances." 
In raw, vivid episodes, Lawrenz describes the immediacy of the pain and the uncertainty of what his family experienced. In the agony of traumatic loss, Lawrenz apprehends the realities of love and life and offers insights on how to navigate our life priorities before or after tragedy hits.
Heather Davediuk Gingrich, professor of counseling at Denver Seminary and author of Restoring the Shattered Self, said, "Within the pages of A Chronicle of Grief, Mel Lawrenz bares his heart broken with grief, yet his story is sprinkled with hope. As I write we are in the middle of the Covid-19 pandemic, which is ripping so many from the arms of their loved ones. When he wrote this book, the author would have had no inkling of what was to come. So much death . . . so much loss . . . so much trauma . . . so much grief . . . for so many individuals and families. A Chronicle of Grief could not be more timely."
Lawrenz trains an international network of Christian leaders, ministry pioneers, and thought leaders through the Brook Network. His other books include Spiritual Leadership Today and Life After Grief. Read an excerpt of A Chronicle of Grief at ivpress.com/a-chronicle-of-grief.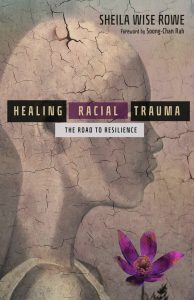 Healing Racial Trauma: The Road to Resilience by Sheila Wise Rowe was the other IVP book to be honored with an INDIES Book of the Year Award. Healing Racial Trauma received the bronze award in the multicultural (adult nonfiction) category. This title also received a starred review from Publishers Weekly and the 2021 Christianity Today Book Award for the Christian Living/Discipleship category.
Author and speaker Gail Dudley said, "Healing Racial Trauma is outstanding. This book forced me to pull back the makeshift Band-Aids, which on the surface hid some deep-seated wounds from the racial trauma I had experienced. Reading this book reminded me of the stories my Black grandparents would share of racial tension and outright hatred with my siblings and me at a very young age. Tears filled my eyes while I was holding on to every written word. I pressed beyond the immediate feelings that welled up within me to find solace and embrace authentic healing. This book is a must-read if you are serious about healing racial trauma. I give Sheila Wise Rowe a standing ovation for this life-altering book!"
Rowe holds a master's degree in counseling psychology. For over twenty-five years she has ministered to abuse and trauma survivors in the United States and for a decade in Johannesburg, South Africa. She also taught counseling- and trauma-related courses. Rowe is also the author of the forthcoming title, Young, Gifted, and Black: A Journey of Lament and Celebration (IVP, March 2022). Read an excerpt of Rowe's book at ivpress.com/healing-racial-trauma.
As part of its mission to discover, review, and share the best books from university and independent publishers, Foreword Magazine Inc. hosts an annual awards program each year. This year more than 2,100 entries were submitted in fifty-five categories, with Foreword's editors choosing approximately nine finalists per genre. Those finalists were then delivered to individual librarians and booksellers tasked with picking the gold, silver, bronze, and honorable mention winners.
"Covid-19 changed the world," said editor in chief Michelle Anne Schingler, "And the INDIES were no exception. While we ordinarily meet in person to vet the thousands of entrants and determine finalists, this year we had to read books independently and come together afterward and discuss our impressions. What we discovered was heartening: we were in agreement about finalists, even when encountering books miles and days apart. We are happy to, with renewed fervor, declare these books the best of the best that we saw."
For a complete list of IVP's award-winning titles, visit ivpress.com/award-winners.
Contact: Krista Clayton | 630.734.4013 | kclayton@ivpress.com