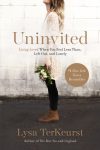 Bible Gateway Q&A with Lysa TerKeurst, author of 'Uninvited'
Rejection can be crippling. Cruel words spoken in mockery or being mercilessly shunned can create wounds that dig deep into our sense of self, and can resurface in surprising ways as an adult. But this doesn't have to be the end of the story. In this Bible Gateway Q&A, Lysa TerKeurst (@LysaTerKeurst) talks about her book, Uninvited: Living Loved When You Feel Less Than, Left Out, and Lonely (Thomas Nelson, 2016).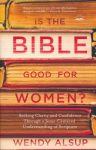 Bible Gateway interviews Wendy Alsup, author of 'Is the Bible Good for Women'
Is an orthodox understanding of the Bible threatening or harmful to women? How should difficult Bible passages regarding women be properly interpreted? How does God view justice and equal rights for women? Bible Gateway interviewed Wendy Alsup (@WendyAlsup) about her book, Is the Bible Good for Women?: Seeking Clarity and Confidence Through a Jesus-Centered Understanding of Scripture (Multnomah Books, 2017).